Discover How You Can Get Tons of FREE Traffic From Facebook Without Paying A Dime (Yes - it's still possible!)
No Ad Costs, Fast Traffic,
Obsessed Customers
Hello, this is Rachel Rofe -
Over the past few months I've been watching my friend Doug Johnson get huge amounts of traffic from Facebook while everyone else complains about it getting harder and harder to stand out.
I see him do it all the time. The other day he made a post on one of his pages and got these results without paying to boost his post:
- 18 minutes in: 53 shares, 8 sales
- 5.5 hours in: 371 shares, 34 sales
- A couple days in: 45-50 sales
Not bad for typing a few sentences and hitting "post". 
It was only AFTER he got those results that he created a $10 ad to boost his post. He boosted his sales from 45-50 to 102 very quickly.
Now, a little over a month later, he's made $5766 from that one product. Screenshot:

I realize this isn't $1,000,000+ a second like other sellers seem to make but considering the effort he put in and how many times this can be replicated with other products, I think it's fantastic.
And honestly - that's not even Doug's best post. I just went onto one of his pages for another example. 17 hours in, he has over 1.1k shares on a post without paying for it: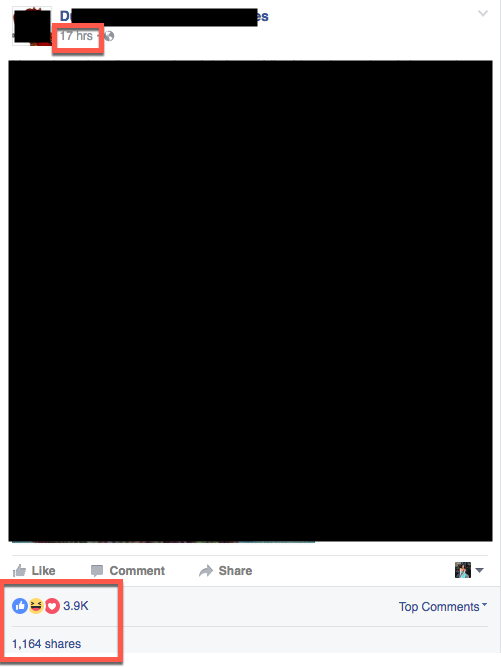 Here's the "secret" I learned from Doug:
You can create pages full of rabid buyers who seem to buy everything.
I'm telling you - the people on Doug's pages seem to buy it ALL. Here are some of the items he sells successfully:
Shirts
Mugs
Bracelets
Key blanks
Gaming accessories
You could easily sell these things. What's even better is the bulk of them can be made and sent to customers on your behalf so all you have to do is post on Facebook and collect payment.
These pages can be for all kinds of niches. Actually, Doug has several pages making active sales - some that are for fans of certain TV shows, or games, while others are more general, like one specifically for people into time travel.
(Before you ask, he doesn't do anything that's illegal trademark-wise. In fact, things are so legit that because of his Facebook page (the largest in his niche), he was given a media pass to the biggest conference in his industry.)
EARLY BIRDS - 
You can purchase tonight. The rest of this page will be filled out later, but the video above explains everything you need. 🙂